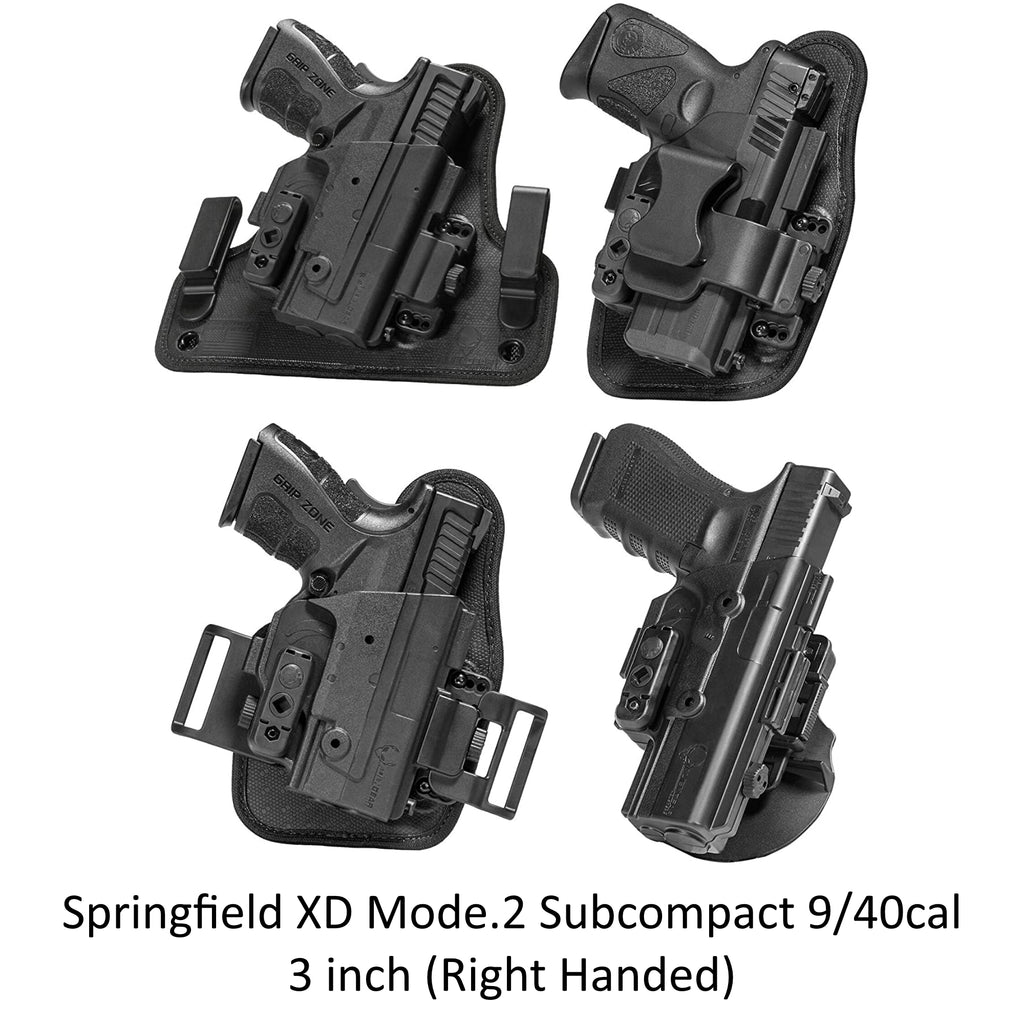 Alien Gear Holsters
Alien Gear Holsters Springfield XD Mod.2 Subcompact 9mm/40cal 3 inch ShapeShift Core Carry Pack - Right Handed
---
XD Mod 2 ShapeShift Modular Holster Kit
Alien Gear's ShapeShift is not just an XD Mod 2 concealed carry holster or open carry holster - it's a complete carry system. This holster system allows the user to carry their pistol in any manner they wish, with adjustable passive retention and active retention both available for use.
The core of the ShapeShift is the retention shell system. The ShapeShift Core Carry Pack includes one full Shift Shell and two trigger guards. The two half-Shift Shells can be combined to make a clamshell, or can be combined with the half-shell to completely wrap the trigger guard. From there, the choice is up to you to find the carry configuration you want. They fit together using toolless locking rails, combined with a twist lock.
Included with the shells are two backing pads - one small, one large.
The larger backing pad is for use as an XD Mod 2 IWB holster, which you may note is of nearly the same design as our Cloak Tuck 3.0. It has the same spring steel core, neoprene backer and Alien Skin top surface, as well as adjustable belt clips. Attach a full shell to a trigger guard half shell and attach to the backer, and you have an IWB holster.
If you prefer an XD Mod 2 appendix carry holster, attach the shells to the smaller backer. Use the locking gate on the outer shell to install the large IWB belt clip, similar to the larger clip on our Cloak Mag Carriers. Adjust to the cant angle of your preference, and you have an XD Mod 2 appendix carry holster.
The ShapeShift can also give you two options for an XD Mod 2 OWB holster as well.
If you assemble a full shell and a half shell, and attach to the smaller backer, there are two belt slide clips that come with the holster. Attach these and the ShapeShift becomes a high-ride hybrid XD Mod 2 belt slide holster, perfect for OWB concealed carry under lighter outerwear or an untucked shirt.
However, you can also attach both full shells to create a clamshell holster. This configuration is an ultra-durable holster design, which can incorporate one or more active retention devices. Included in the kit is a paddle attachment, giving you an XD Mod 2 paddle holster.
Retention is highly adjustable. Included in the kit are three retention bars that can be attached to the half-shell. Choose light, medium or heavy passive retention. Additionally, a thumb-release or finger-release - or both concurrently - can be attached to the full shells for the utmost in holster retention.
---
Share this Product
---
More from this collection