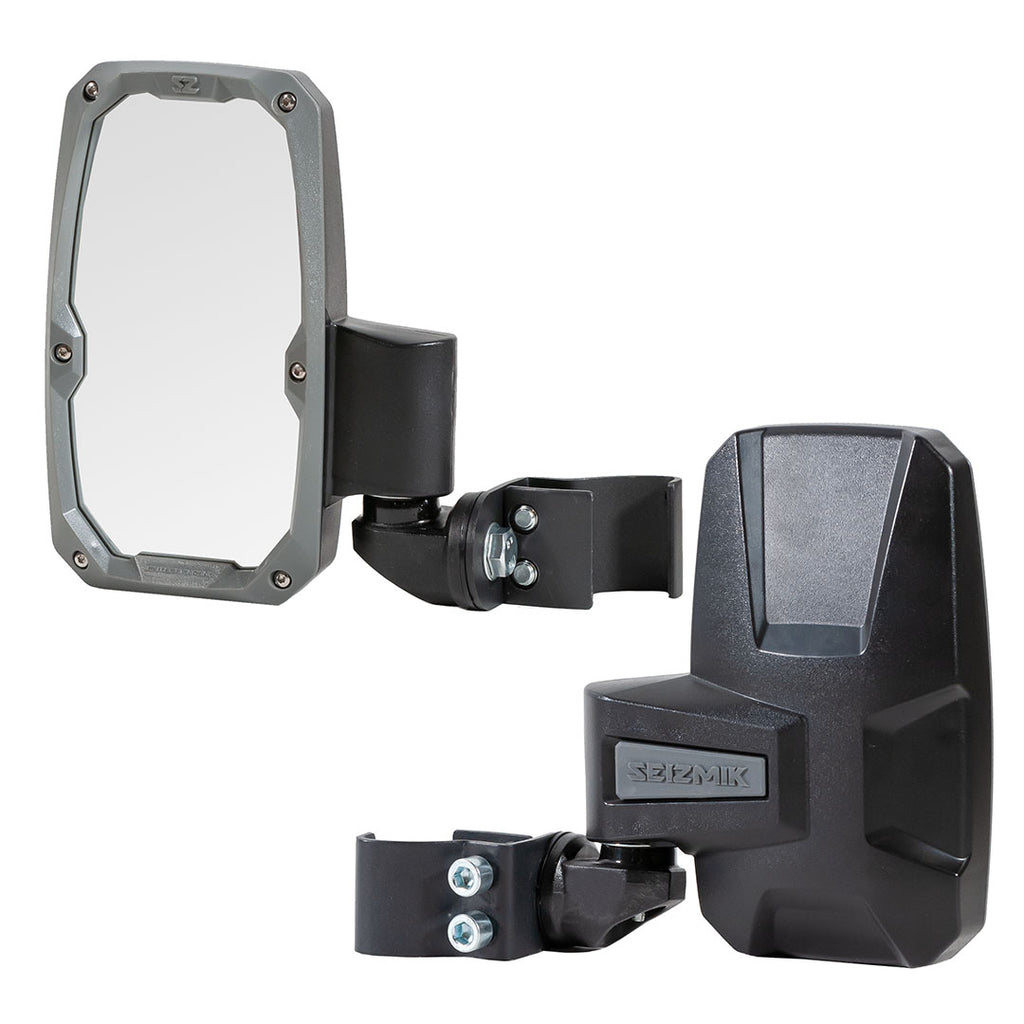 Seizmik
Seizmik Embark ABS UTV Sideview Mirror (Polaris PRO-FIT or Can-Am Profiled ROPS)
---
Seizmik's Embark Side View Mirrors are versatile, vertically designed, side mirrors with mounting options available for most any UTV. The aesthetics and vertical design of the mirrors, along with its low profile clamp, allow for a wide range of mounting options.
Mount the mirror in a traditional upright position or mount it inverted to accommodate the field of view your work requires. Equipped with safety features like breakaway geometry, impact resistant thermoplastic housing, a full perimeter bezel mirror guard, and shatter resistant and replaceable safety glass, the Embark mirror will withstand the punishment your UTV faces while out on the trail, in the fields, or wherever your work or play takes you.
The Embark Side View Mirrors include replaceable, convex mirror glass and are backed by Seizmik's Unlimited Lifetime Warranty. We don't care if your cow eats the mirror, or you shoot it, we'll send you the replacement parts needed to repair the mirror for FREE. SERIOUSLY. FREE. And, you can customize your Embark Side View Mirrors to match your ride with our color Bezel and Cap kits (sold separately).
Features Include:
VERTICAL MOUNTING ORIENTATION—Versatile Mirror Clamp provides 360º rotation for mirror housing which allows wider range of installation options, including an upright or inverted position
FULL BREAKAWAY GEOMETRY—Designed to break away during impacts to prevent damage
SHATTER RESISTANT SAFETY GLASS—For maximum safety
CONVEX MIRROR SURFACE—Provides wider viewing range and image stabilization
IMPACT RESISTANT THERMOPLASTIC HOUSING—Structurally Reinforced Housing is extremely rigid to prevent flex and maintain form
LOW PROFILE HINGED CLAMP—Clamp design provides extreme clamping power, minimal interference with other accessories, and a simple installation.
MIRROR GUARD—Full Perimeter Bezel constructed from high impact thermoplastic for superior mirror protection
304 STAINLESS STEEL HARDWARE—High Grade Corrosion Resistant Hardware for years of reliable trouble free performance
POSITION TENSION ADJUSTMENT BOLT—Always be able to keep it tight as new
RUN IN STYLE—Color Bezel & Cap Kits are available in popular colors to coordinate with your ride (sold separately)
UNLIMITED LIFETIME WARRANTY—No matter how the mirror gets damaged, we'll send you the parts to repair your mirror for free
Part# 18106—Fits the following UTVs:
Polaris Pro-Fit Full and Midsize Ranger 

Polaris General

Can-Am Defender with Profiled ROPS

Can-Am Maverick Trail/Sport with Profiled ROPS
---
Share this Product