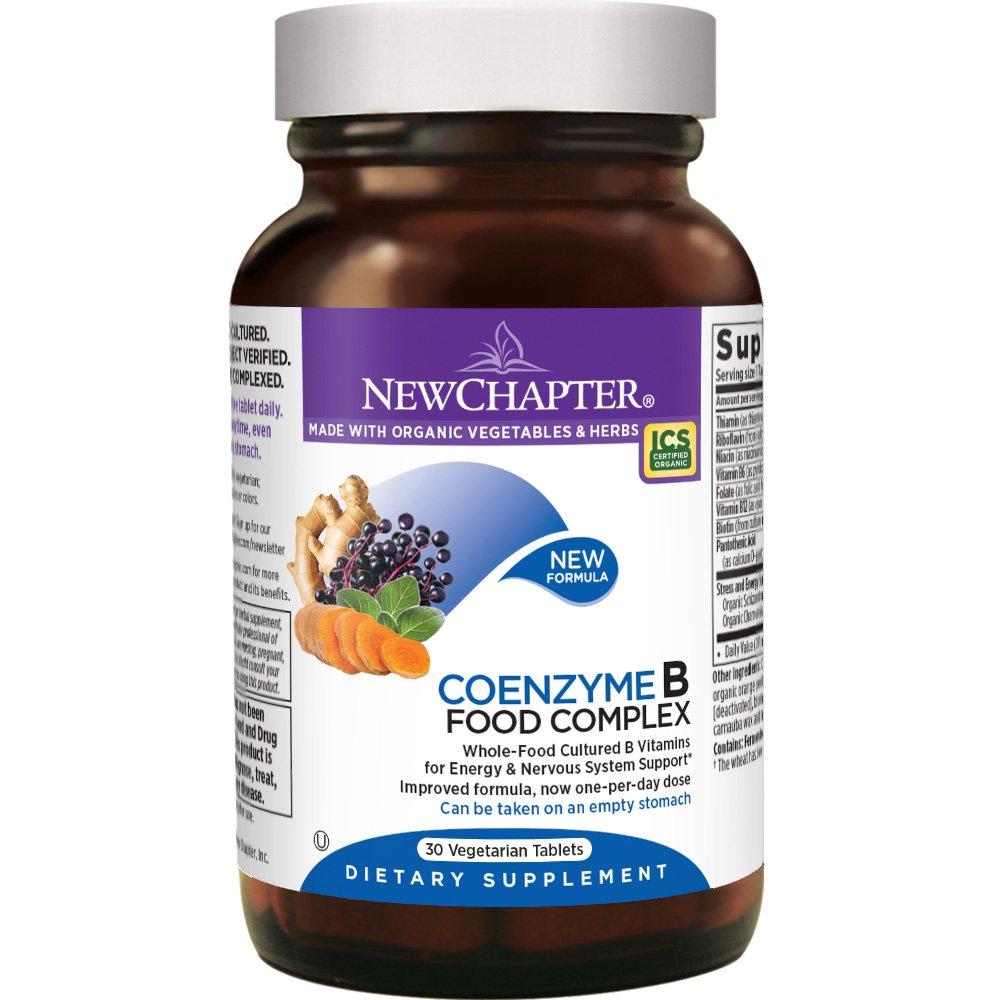 New Chapter
New Chapter Vitamin B Complex - Coenzyme B Food Complex with Vitamin B12 + B6 - Whole-Food - 30 Vegetarian Tablets
---
Details:
B vitamins for turning food into fuel at the cellular level. B vitamins are water soluble, which means they are continually processed through the body rather than being stored. It's simple to replenish your B Vitamins every day with just one tablet of Coenzyme B Food Complex.
Coenzyme B Food Complex is a complete Vitamin B supplement with a major advantage: it's fermented with probiotics. New Chapter's patented fermentation process ensures each nutrient is unlocked for your body to use. The power of probiotics helps to activate and transform basic nutrients into whole-food fermented form. The result is easily digestible nutrition that's so gentle you can even take it on an empty stomach.
New Chapter's Fermented B Vitamins List:
B1 - Thiamin functions as a coenzyme in the metabolism of carbohydrates
B2 - Riboflavin is a coenzyme in numerous metabolic pathways and in energy production
B3 - Niacin helps in nerve function and is needed for processing fats and sugars in the body
B5 - Pantothenic Acid is important for breaking down fatty acids
B6 - Pyridoxine functions as a coenzyme in the metabolism of amino acids and glycogen
B7 - Biotin is vital for proper mitochondrial and enzyme function
B9 - Folic Acid (a type of Folate) is important for the metabolism of amino acids
B12 - Cobalamin is found only in animal products, so B12 is an important supplement for vegetarians and vegans
Coenzyme B Food Complex also includes complementary traditional herbs and superfoods such as Turmeric, Maca, Hawthorn, and Astragalus.
Key ingredients:
Turmeric: Powerful ally for healthy inflammation response*
Maca: Stress & Energy support 
Grape Seed Extract: Supports lean muscle mass*
Elderberry: Immune support from the power of fruit*
*These statements have not been evaluated by the Food and Drug Administration.  This product is not intended to diagnose, treat, cure or prevent any disease.
---
Share this Product
---
More from this collection