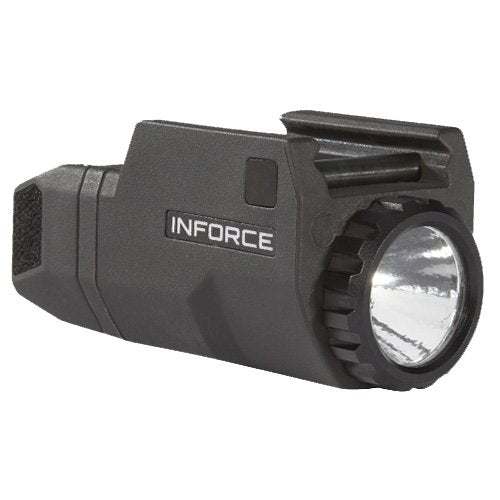 InForce
InForce APLc Compact WML Weapon Mounted White Light For Glock Auto Pistol 200 Lumens Black ACG-05-1
---
Details:
The Inforce Glock flashlight is the perfect flashlight attachment for your Glock pistol, with an extremely durable and ultra lightweight body that provides a 200 lumen, high-intensity tight beam for close to mid-range target identification. These weapon lights by Inforce mount to all Glock rails and put out incredible power a water-resistant, glass reinforced compact build.
The Inforce APL compact Glock mounted light features a non-slip grip with textured paddles and an switch that can be enabled with either your left or right hand for fast activation. When you need a compact weapon light, look no further than the Inforce.
Features:
- 200 Lumens of vibrant white light.
- 1/4 turn of head engages lockout mode for travel, transport, & storage.
- Mounts completely flush with muzzle of Glock 19.
- Textured paddles for optimal non-slip grip.
- Integrated clamp interfaces with all Glock rails.
- Non-slip switch controls constant & momentary functions.
Specifications:
- Functions: Constant/Momentary.
- Mode: White.
- Output: 200 Lumens.
- Runtime: High efficiency LED provides up to 1 1/2 hours.
- Mount: Integrates with all Glock rails.
- Activation: Ambidextrous on/off.
- Lockout Systems: Head rotation.
- Construction: Glass reinforced polymer body offers high impact resistance and durability.
- Battery: 1 Lithium CR2 included, head removes for battery replacement.
- Dimensions: 2.43" Length x 0.88" Bezel Diameter.
- Weight: 1.87oz.
- Color: Black.
---
Share this Product
---
More from this collection