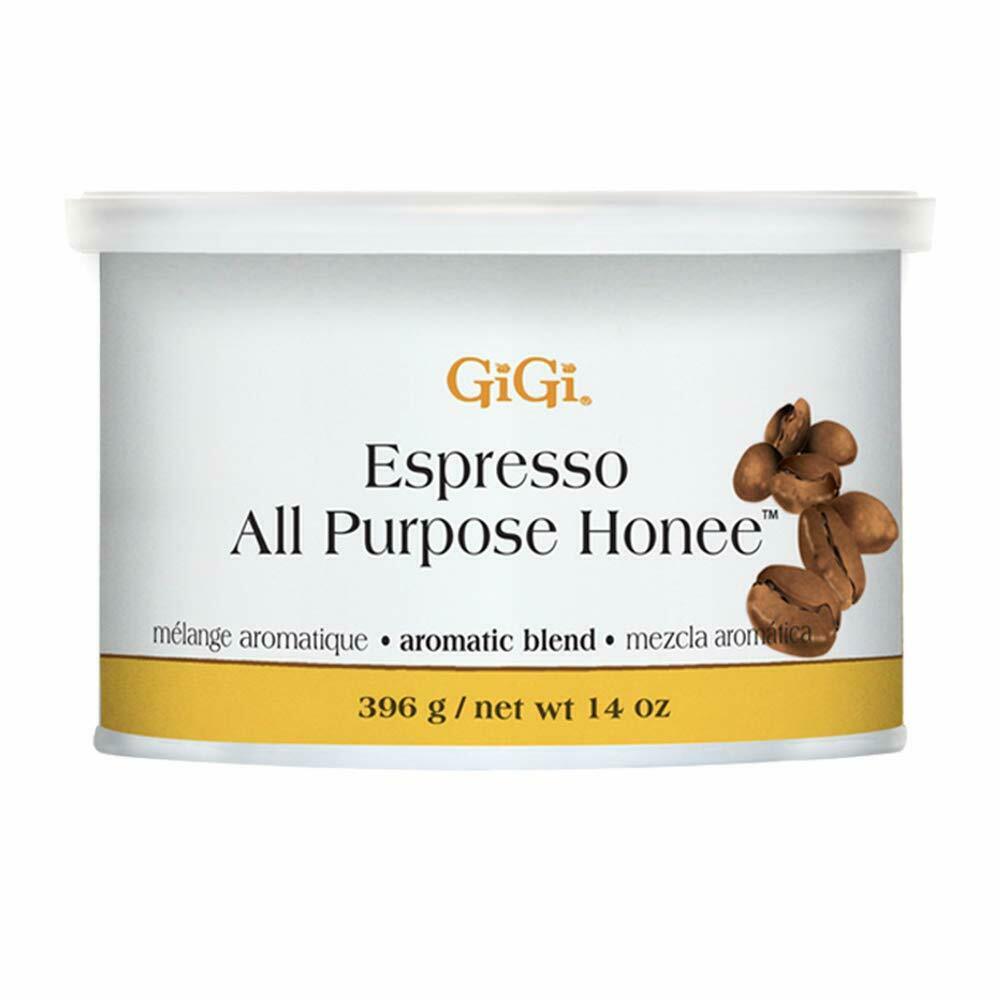 LightJunction
GiGi Espresso All Purpose Honee Hair Removal Wax with Antioxidant, 14 oz
---
GiGi Espresso All Purpose Honee Wax is an all-natural honey wax ideal for all skin types. It is formulated with coffee extract that acts as a potent antioxidant to promote healthy skin. This aromatic wax is recommended for normal skin types and the removal of medium hair.
Ingredients: 
Glyceryl Hydrogenated Rosinate, Dipropylene Glycol Dibenzoate, Methyl Hydrogenated Rosinate, Coffea Arabica (Coffee) Leaf/Seed Extract, Honey Extract (Mel, Extrait de Miel), Carthamus Tinctorius (Safflower) Seed Oil, Mineral Oil (Paraffinum Liquidum, Huile Minérale), Polyester-3, Fragrance (Parfum), Benzyl Alcohol, Iron Oxides (CI 77499), Red 17 (CI 26100)
1. Place collar on GiGi warmer.
2. Remove plastic lid and place can in warmer. Set temperature to High for 15-25 minutes, then set to Low until wax has a thin/honey consistency.
3. Test wax temperature on the backside of your wrist before waxing.
READY TO WAX!
1. Cleanse area to be epilated with GiGi Pre Hon cleanser and then pat thoroughly dry with tissue.
2. Apply a thin layer of GiGi Pre Epilation Powder to absorb moisture and oil.
3. Holding the applicator at a 45° angle, apply a thin layer of soft wax in the direction of hair growth.
4. Place epilating strip over wax and rub strip firmly in the direction of hair growth.
5. Hold the skin taut and pull epilating strip off (parallel to the skin) with one quick motion in the opposite direction of hair growth.
6. Immediately apply firm pressure to epilated area with the cushion of your fingers or palm of your hand to calm the skin. Pro Tip: Use your epilated strip to remove any leftover wax from your skin
7. Never re-apply soft wax to newly-epilated areas.
AFTER WAX CARE:
1. Apply GiGi Wax Off to remove any wax residue and to condition. 2. Apply Post Wax Cooling Gel liberally to skin after waxing to help soothe irritation and redness.
3. To maintain waxing results longer, smooth on GiGi Slow Grow, a hair minimizer, every day after showering.
---
Share this Product
---
More from this collection