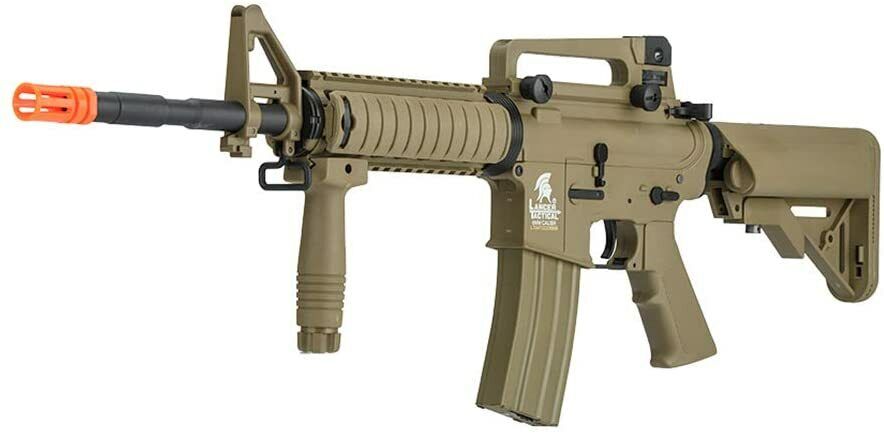 Lancer Tactical
Lancer Tactical Gen. 2 M4 RIS LT-04T Airsoft Gun AEG Rifle, Tan/Dark Earth
---
Overview
The Generation 2 Lancer Tactical entry level M4 has an outstanding list of features, taking their already impressive M4 RIS LT-04T Carbine to the next level with you along with it! The lightweight ABS construction of the Generation 1 rifle has been reinforced with tough nylon polymer, making it able to withstand heavy use in extreme situations and keeping the internals safe and efficient. The full metal outer barrel will not tarnish and ensures a fixed trajectory. The removable carry handle allows you to mount your choice of red dot sights and magnified scopes. But it's the integrated rail system that makes this M4 AEG a must-have. The drop-in polymer RIS now allows you to mount a slew aftermarket parts, including tactical flashlights, pressure pad lasers, and even 40mm airsoft grenade launchers! This high resistance upgrade fights off the elements during high intensity play, the only thing you need to fight off are your enemies. 
Upgraded Gearbox/Internals The Generation 1 rifle included upgraded internals, but Lancer Tactical took the M4 RIS LT-04T rifle a step further to deliver more POW in its power! A quick change spring gearbox can be used to change your FPS from CQB to Outdoor MilSim on a whim, its ported piston head maintains excellent air compression inside the cylinder, and the included 6.03 mm tightbore barrel gives you the range and precision you'd never expect from similar AEGs. The upgraded gearbox has even tougher metal gears that are much more efficient than the traditional pot-metal gears. The teeth along the cylinder are metal and the motor has been upgraded to move even faster. 
This airsoft M4 RIS features a retractable crane stock for easy-access battery storage of nunchuck and buffer tube type batteries. Low resistance wiring prevents any damage from high voltage batteries and also makes your trigger more snappy. Right out of the box, the M4 RIS LT-04T rifle is a force in combat. To make sure you can immediately field this AEG, Lancer Tactical has included a rechargeable 9.6v nunchuck battery, a rechargeable wall charger with a cut-off light, and a 1,000-round bag of 0.20g BBs to jump into the action. 
Features
Lightweight nylon polymer construction 
Metal Gearbox with upgraded internals 
6-inch drop-in rail system 
6.03 mm tightbore inner barrel 
Adjustable rotary polymer hop-up unit 
Removable carry handle 
Retractable crane stock 
Front and rear sling mounts 
Sling adapter plate 
Unique serial numbering 
Battery, charger, 1000rd bag of 0.20g BBs
Specifications
Operation: Electric Automatic 
Build: Metal Gearbox, Outer Barrel / Nylon Polymer Receiver, Rail System, Stock, Carry Handle, Motor Grip, Sights 
Firing Modes: Semi-automatic, Full-automatic, w/ Functional Safety 
Muzzle Velocity: 370-395 FPS (w/ 0.20g BBs) 
Weight: 5.25 lbs. 
Gearbox: Full Metal Version 2 
Magazine: 300rd High Capacity (gear wind-up) 
Battery: 9.6v Nunchuck 
Inner Barrel Length: 363 mm 
Inner Barrel Diameter: 6.03 mm 
Hop-Up: Adjustable 
Overall Length: 31" in. / 34.5" in. (Retracted / Extended)
---
Share this Product